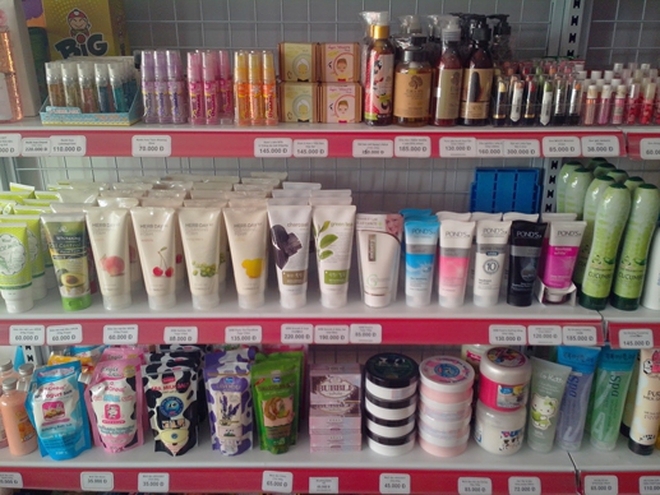 According to the Ministry of Industry and Trade, Thailand goods are currently available in more than 9,000 markets across the country and Vietnam consumers receive. Thus, for Vietnamese enterprises, fears of Thailand encroaching is too obvious.
From small markets to the supermarket
Backed by the distributors in Thailand, many products "made in Thailand" has set foot in many supermarkets in Vietnam. One of these giants are names most mentioned last time to mention BJC Group with a series of acquisitions, the merger with the retail system of Vietnam. Best not to mention cult acquisition of BJC Metro, followed by the group's purchase of shares in the joint venture with Family Mart Co., Phu Thai and open a convenience store chain B'smart ...
From this deal, opportunity for distributors to expand the scale of Thailand in Vietnam is increasingly larger. And that led to the entry of products or goods from the country into the Vietnam market.
Now, Thailand goods appear not only in the supermarket but small markets on the sidewalk in Vietnam.
Walking around the neighborhood in Hanoi, we easily caught the convenience store selling Thailand goods. With the advantage of price, design, particularly better quality compared to the same category of products originating in China, the Thai goods was increasingly preferred by Vietnam consumers.
Nguyen Thanh Ha, from My Dinh (Hanoi) said, It is not psychological problem, but the truth is that foreign goods from Thailand are popular Vietnam's in quality and design, especially products appliances, plastics, cosmetics ... so she often looks for the convenience store to purchase Thailand.
Ms. Ha is just one of the many people prefering buying Thailand goods, simply by good quality and reasonable price, good design. Understand this mentality, many convenience store selling Thailand goods were opened in many streets in Hanoi. According to the share of a convenience store owner selling Thailand on Tay Son Street, Dong Da District, Hanoi, new stores opened more than a year but has attracted a large number of customers.
Previously we have imported Chinese goods but hardly was it sold, so we transfer to Thailand goods ". In fact, the Thai goods were prefered by Vietnamese consumer because they has higher prices of products than Vietnam from 10-20%, but much cheaper than the goods originating from Europe, but the quality is the same.

Great challenge
Not only in Hanoi, Thai goods also has infiltrated many other provinces across the country. In Da Nang, only since the beginning of the year, the business specialized stores Thailand sprouting on a lot.
Tran Thuy Trang, owning a Thailand store in Hai Chau district, Da Nang city, said Thai products are sold very quickly, especially for household items such as dishwashing liquid, perfumed soap, cleanser, face towels, bath towels ... According to her, although higher prices by 15-20% compared to the Vietnam, but Thailand was appreciated in terms of quality, models.
It can be seen, with a series of advantages in terms of quality, price, design, Thailand goods are gradually replace China. Notably, data from the Ministry of Industry and Trade said that among the imported goods sold in the domestic market, in terms of the number of products originating from Thailand is second, after Chinese buyers.
The above figures are becoming really big challenge for Vietnam enterprises, in particular, when the wave of integration which is increasingly strong, the Free Trade Agreement was signed ... a series of tariff lines 0, the risk of foreign goods, including goods in Thailand encroaching domestic market has become increasingly significant visible.
In contrast to the excitement of Thailand influx of goods in the country still do not have a lot to improve the models, prices ... This, according to economic experts will become barriers that Vietnamese businesses hard be kept at home because they can not compete with Thai restaurant. According to Vu Vinh Phu - Chairman of the Association of Hanoi supermarket, at present, the issue price is not the first criteria of consumers anymore, instead the quality, design, so the product good quality, good design always attract buyers.
Therefore, Vietnam enterprises should take quality criteria and design as the first criteria to actively improve product design enhanced quality can compete ...
But according to Dr. Dinh Thi My Loan - Chairman of the Association of Vietnam Retailers, the Thai goods will quickly replace Chinese goods in Vietnam market and become a direct competitor with Vietnamese goodsl Therefore, the requirements set out for Vietnam's enterprises must focus on promoting the improvement of product quality, actively building the distribution system.
According to Cafef.vn